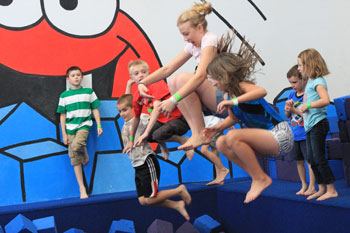 School is out, Camp is in at ASI Gymnastics. Bring the kiddos to Holiday Camp. Your kids will have a great time bouncing on the trampolines and swinging on the rope as they play games, all while learning gymnastics. They also participate in team building activities, group games, and fun problem solving.
We offer two sessions per day from 8am-1pm and 1pm-6pm. Ages 3+. A snack is provided for each child per session. Kids in the morning session will need to bring a sack lunch.
Holiday Camp runs until January 6, 2014 at most ASI locations.