We are so excited to announce a new scoring system this year for the 2013-2014 meet season. We are now using software called Beyond the Scores to bring you an even better experience during every meet we host at ASI Gymnastics. This online system is able to bring you the complete meet schedule online, and you can view the results right after the meet. In addition to this online system, the scores will now be displayed on flat screen TVs around the gyms. This scoring system will be much easier to read and follow during the meets.
The most important part for you, the parents, is that Beyond the Scores also has a mobile app! That's right! You will now be able to get instant access to your child's scores straight from the judges!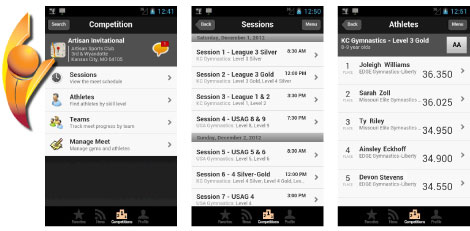 It's FREE to download the app, and you have the option to pay $1.99 per meet to track the scores. Once you have downloaded the app, you can follow the guided tour for all the information you need to track your child's progress.
How to follow your child:
On the Favorites list, click Add in top right corner.
Click Add Athlete.
Search for your ASI location and click on the name.
ASI Gymnastics – Arlington
ASI Gymnastics – Allen
ASI Gymnastics – Firewheel
ASI Gymnastics – Keller
ASI Gymnastics – Lake Highlands
ASI Gymnastics – Mesquite
ASI Gymnastics – Plano West
ASI Gymnastics – Rockwall
ASI Gymnastics – The Woodlands
Search for your child's name and click on their name. An orange star will appear to the left of their name.
Click Close.
Your child will be listed under the Favorites tab. You can now track your child's progress throughout the season, view their meet schedules, track progress by team, and view team based results for each meet.
You may also want to follow each member of your child's team throughout the meet season. If so, there is no extra fee to follow more than one child.
Please keep in mind that even if you do not choose to pay to track your athlete's progress each meet, you will still be able to view the scores on the flat screens in the gym. We hope you all enjoy this new experience during meets this season! Good luck to all of our fantastic Athletes!
BEYOND THE SCORES
MORE ARTICLES