At ASI, we are committed to offering the best gymnastics instruction possible for every child at their level. To us, that means a toddler deserves the same high quality gymnastics that we offer to our top level gymnasts. Thankfully, we have amazing coaches like Coach Phil Humbert to ensure that our little ones get exactly what they deserve: the best, most fun gymnastics class around!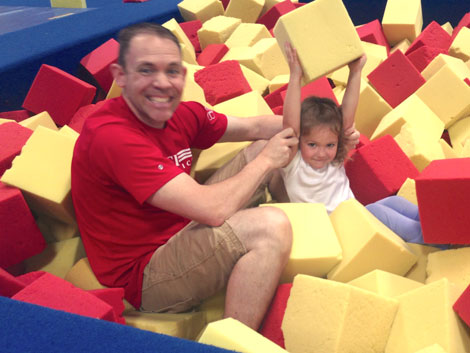 Coach Phil started coaching at ASI Arlington almost 7 years ago, and he still says that it was the best decision he ever made! Now, he is one of the top-ranked coaches in our entire company! Because Phil is such a talented coach, he is capable of teaching all kinds of gymnastics classes and special events like Parents' Night Out and Survivor Camp, but he really shines in preschool classes. He is energetic, fun, and so creative, his students can't take their eyes off him. We think Phil is so great at working with kids because in reality, he's just a big kid himself. So many adults forget how to have fun as they grow up, but Phil gets paid to have fun every day!
Quote from Phil
"I love that we have created a world that is all about loving kids! No matter the ability, the age, or the size, any kid can come to ASI and have a life changing experience. For me it's all about FUN, and I get to have FUN every day I come to work. Where else am I going to find a job that welcomes that kind of desire?"
After watching Phil have so much success, we asked ourselves, "How can we replicate Phil's amazing coaching talents, so that kids everywhere can have this much fun in their gymnastics classes?" Now, Phil is overseeing our Preschool gymnastics program for the whole company. In addition to coaching, he will be traveling from gym to gym, making sure that all of our coaches have the training and resources they need to give kids an amazing experience every time they walk into an ASI Gymnastics facility. At ASI, if you work hard and love kids, there is no limit to how much you can grow in your career!
Quote from Phil
"Through ASI I am able to have a full-time job that I love! I honestly enjoy coming to work everyday and know that each day is going to be different than any day before! I get compensated fairly, have health insurance, and work for a company that I know genuinely cares about me as a person. I have been given opportunities to grow as an employee and look forward to hopefully growing into newer and bigger roles in the future. What more could I ask for?"
PHIL HUMBERT
ASI ARLINGTON
Coaches
Tiny Tots
Kidz Gym
Girls classes
Boys classes
Birthday Parties
Camp, Open Gym, and PNO
High School
College
University of Mary Hardin Baylor
Favorite hobbies
Fishing, volleyball, disc golf, and movies
Favorite Love Song
"I Don't Wanna Miss A Thing" by AeroSmith
MORE COACH'S CORNERS