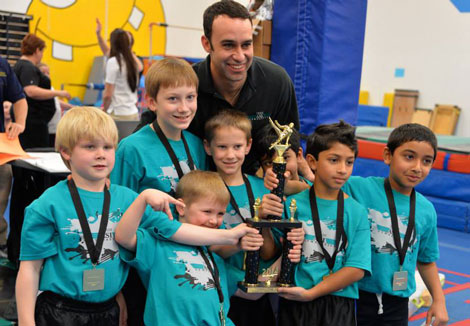 If you've ever been to ASI Allen, chances are you recognize Coach Cris Saenz. He's been there since it opened in 2005! Cris is an institution at ASI Gymnastics, and he has been fortunate enough to make an impact in the lives of thousands of kids during his 10 YEAR career at ASI. He started while he was in college back in 2004, because his sister worked for us and he needed a job. After he started coaching, he realized that working with kids was his passion, and he's since built an incredible career doing what he loves. Cris is a man of many talents, so he coaches kids in our Tiny Tots and Kidz Gym classes through the highest levels of Power Tumbling, and he's an incredibly successful Boys Team coach! Cris also sees the importance of exposing kids to fitness at a young age. He knows after a decade of coaching gymnastics that it truly is the best athletic development for children.
Quote from Cris
"Gymnastics is the ultimate sport! No other sport requires as much strength, balance, flexibility, courage, and determination. Gymnastics allows athletes to move in ways no other sport can. This early exposure to fitness is extremely important for kids. It keeps them healthy and active. If a child develops healthy habits in their youth, they can easily be carried over into adulthood. Sports and fitness build confidence and character, and instill work ethic and determination that can last a lifetime."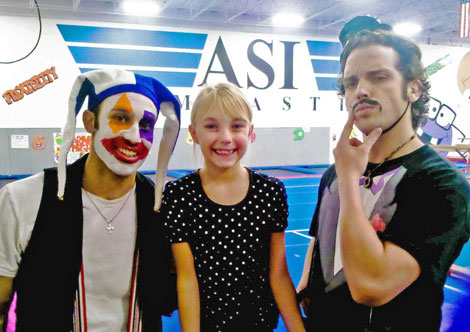 Cris loves the bonds he's built at ASI. He's been able to watch hundreds of kids grow into incredible athletes and amazing young people during his time at ASI. It's also where he met some of his best friends, and even the best man at his wedding! Cris said he will never forget that when his father passed away, many of his coworkers, his supervisors, and even the owner of ASI Gymnastics attended the funeral and supported him, even though he didn't ask them to. Our full-time benefits like health insurance, educational assistance, tuition credits, a flexible schedule and a killer fitness plan are certainly nice, but it's these unforgettable relationships that make a career at ASI so rewarding. The only people more fun to work with than your coworkers at ASI is the kids!
Quote from Cris
"I just love the kids. It's the daily interaction with them that keeps me coming back. They keep me young and always make me smile. Teaching a child a new skill is better than gold, in my opinion!"
Coaches
Tiny Tots
Kidz Gym
Girls classes
Boys classes
Boys Team, Levels 1-4
Birthday Parties
High School
College
How he stays fit
Weight lifting, running, yoga, coaching
Favorite healthy snack
MORE COACH'S CORNERS